WEDDING PLANNING: TIPS FOR TRIMMING THE GUEST LIST
One of the first steps after you get engaged is drafting your guest list. It's important to have an approximate head count before you get too far into the planning process.  The number effects everything from budget to venue choice.
Start out with a master list. This should include all the people you think you should invite or are thinking about inviting. Along with this flow chart here are a few tips that may help: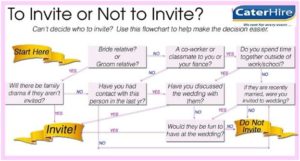 Have a sit down with your parents: To be able to include all of your closest friends ask parents to keep their guest list on the shorter side.
If you haven't spoken to someone in two years, cut them..: Sad, but true. Weddings are special, intimate and meant to be shared with your nearest and dearest.  People grow apart and that is totally natural.
No Ring, No Bring: This is the most common tip for reducing guest lists. While it would be wonderful to extend a plus one to all guests, that could send your total count sky high! Unless the person is married or engaged, they're flying solo. Be sure to ask your fiancée to play by the same rules.
Keep your plans largely to yourself: If you go around the office talking about your wedding plans, your coworkers may start telling you how much they're looking forward to attending the wedding. If you don't want a bunch of people inviting themselves to your wedding, keep those plans to yourself.
At Agave of Sedona we say trust your instincts, think in terms of who you would enjoy spending time with. During the ceremony you want to look out and see a sea of faces of people you feel comfortable with and know will be in your lives for a long time.