Wedding Alcohol… how much to buy?
Buying alcohol for a wedding for 100 people is different than buying it for a house party. Only you know your crowd, so if half of your guests don't drink, adjust accordingly. If they love beer, but hate wine, well, don't have a wine only reception.  Same applies if reversed.
There are three basic types of wedding bars:
Beer & wine only – a few craft beers & wine from the region
Full bar – work with professional bartending service
Something-in-between – modified full bar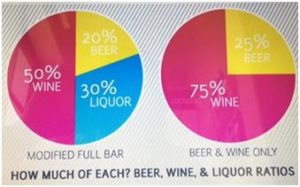 If going with the modified bar, know your crowd before picking out the alcohol to stock your bar with. If they are tequila drinkers then have more tequila (along with limes and salt). Also add beer and wine to this type of bar; 2 types of beer (one dark or strong, one light) to provide options. With wine you'll need at least one red and one white.
If you are going to serve bubbles as a toasting option only, you want 4.5 ounces per person, per toast. Also, you don't have to do a bubbly toast, people can cheers with anything.