Spring Wedding Cake Inspiration
Birds are chirping, flowers are blooming and you can finally start planning your springtime wedding! First things first, you need to see these spring-inspired wedding cakes.
By Aleesha Thomas
Mar 23, 2017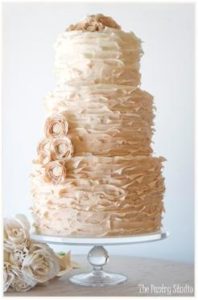 PHOTO: THE PASTRY STUDIO
Let's start off the queue with a wedding cake that is almost too pretty to eat. We love the pale pink fondant flowers with pearl embellishments. It creates the perfect look for any spring wedding.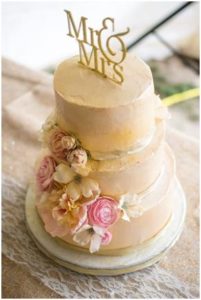 PHOTO: TWO KNIGHTS PHOTOGRAPHY
This cake is decorated with delicate fabric flowers and tied with ribbon. A simple look that is exactly what you need for your springtime wedding. A gold Mr. & Mrs. Cake topper adds the final touch.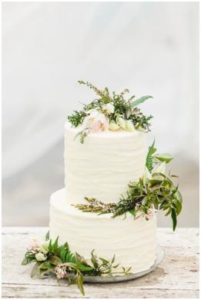 PHOTO: COURTNEY HORWOOD PHOTOGRAPHY
The greenery arrangement on this all-white wedding cake adds just the right amount of color to give a clean, spring look. To incorporate the flavors of spring, try using an in-season berry filling like strawberries or raspberries.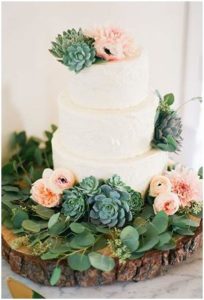 PHOTO: LEILA BREWSTER PHOTOGRAPHY
This cake is totally on trend. We love the incorporation of lush green succulents with pale pink peonies, dahlias and ranunculus. Your guests will be in awe when their eyes catch your cake table.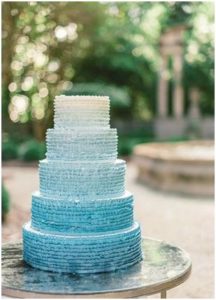 PHOTO: RUSTIC WHITE PHOTOGRAPHY
Ombré on a wedding cake is both modern and unique. The soft, fading effect is just so lovely, and this shade of blue reminds us of a robin egg! A cake like this will seamlessly tie in with your springtime wedding decor.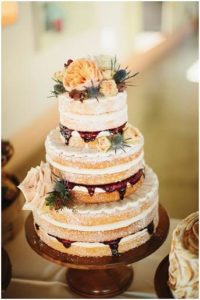 PHOTO: SARA & ROCKY PHOTOGRAPHY
Ditch the frosting and go all out with your favorite spring time berry flavors. Try a blueberry compote or raspberry mousse to fill the inside of the cake. Add your favorite spring flowers to complete the look.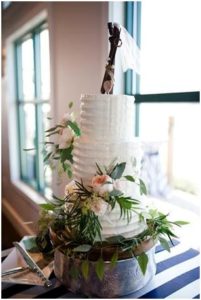 PHOTO: LINDY BETH PHOTOGRAPHY
Personalize your spring wedding cake with a homemade cake topper. This bride and groom used long wooden sticks to create a mini version of themselves! The garden roses and greenery contrast with the wood to give it a feminine touch.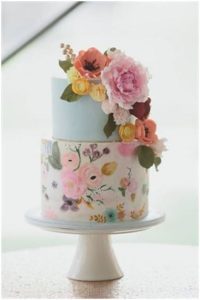 PHOTO: RACHAEL MULLER PHOTOGRAPHY
Trust us when we tell you that watercolors are the next big thing this spring. Watercolor cakes are just what the artistic bride needs if she's looking to add even more color to her wedding day. If this doesn't wow your guests, we're not sure what will.

PHOTO: ERICA O'BRIEN DESIGN
White cakes always look classic and chic. Ask your baker to incorporate sugar or fondant flowers that match with your wedding bouquet. Decorating with the same floral palette throughout your special day helps to coordinate all of your wedding décor.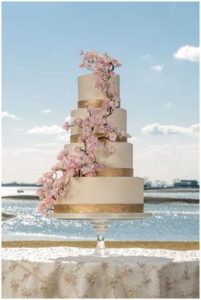 PHOTO: MELANI LUST
Cherry blossoms are the ultimate sign of spring. Include these dainty flowers on top or around your cake to complete your whimsical spring theme.