Most Popular Wedding Dates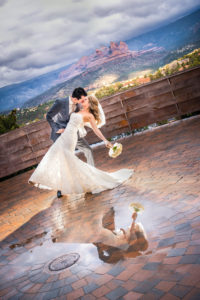 Did you know that the most popular wedding months in Sedona, Arizona, are September and October?
Spring and fall dates are usually the most popular in all areas of the country but in Sedona, September and October are a bride's favorite.  Little rain, warm days and cool nights make these months perfect for a ceremony with the beautiful red rocks as your backdrop. So if you are planning a wedding keep that in mind as those dates book quickly.
On the other hand, if you are on a tight budget ask for off season rates. Off season in Sedona is July, August, January and February. Keep in mind that weddings can be beautiful any month you choose. This particular wedding was in February and it was a stunner!! Thanks to Liv Photography by Jennifer Ann Marie for this gorgeous photo!