Organic Green Wedding Décor with Vines, Ivy or Olive Branches
If you want to include green (the color) greenery into your eco-friendly wedding décor, vines and ivy can quickly be used to create lush organic table's capes, aisle style and even cake decorations.
Apr 10, 2015
Vines are easy to source locally in most parts of the country during the spring, summer and early fall months, and have the added advantage of being extremely affordable. Olive branches also work well for many of these green floral décor ideas because they are quite hardy and widely available. Talk with your florist to see what type of vines are easiest to source locally during your wedding season.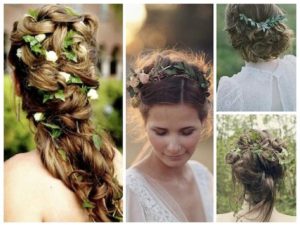 PHOTO: BUZZFEED
For a goddess-worthy wedding hairstyle, weave ivy vines into an elaborate braid or use sprigs of olive to secure a half up half down hairdo. Green branches and vines also work well for floral crowns and headbands – creating the ultimate natural bridal style for your big day.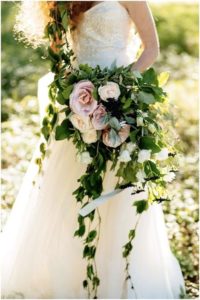 PHOTO: SATIN & SNOW
While you might not want to carry a bouquet made solely of ivy vines, ivy cuttings can provide a rich framing for a cascade style wedding bouquet. The dark green leaves go well with any palette or season.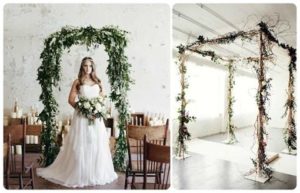 PHOTO: MINT PHOTOGRAPHY
The traditional wedding chuppah or bridal canopy signifies the new home the couple will make together, so having the poles covered in trellising ivy vines makes perfect sense. The color of the vines helps frame the ceremony, and their organic texture when wrapped around the poles provides the perfect eco-friendly décor.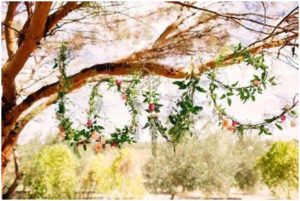 PHOTO: POLKA DOT BRIDE
Some vines (e.g. grapevines) are stronger than others, and can be bent and crafted to spell out words or letters you can use as ceremony or reception decor for your wedding. You can also use wire and wrap ivy around it to create almost any form you want. Add in some fresh flowers to crate the ultimate vintage botanical style.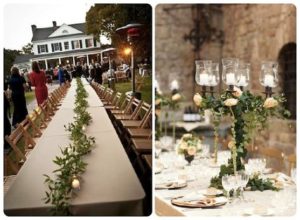 PHOTO: A LOWCOUNTRY WEDDING
Bring the freshness and whimsy of spring inside by using green vines to create a table's cape a la A Midsummer Night's Dream. For a simple look, run the vines down the center of your banquet tables. For something more elaborate, weave them in, out and over object d'art – like candelabras, vases and even vintage pitchers or books.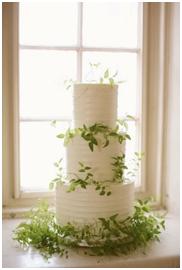 PHOTO: THE WEDDING CO.
Wrapping a clean white three-tier wedding cake in fresh green vines, like this bride did in her vintage botanical themed wedding, is an easy way to make a green wedding statement with minimal environmental impact. Just make sure that the vines are not covered in any pesticides, as they can come off on your cake! This is where going local and organic is essential.