Jewel Toned Wedding Bouquets for Glamorous Brides
Jewel toned wedding bouquets are the perfect accessory for a vibrant bride.
Aug 15, 2016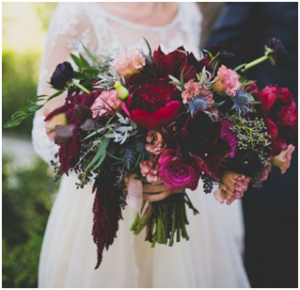 Photo: Floataway Studios
Vibrant Personality
A vibrant bouquet can show off your unique personality. Choose to include a variety of fun flowers like this bride did! Have fun with your wedding day and don't be afraid to let your true self shine.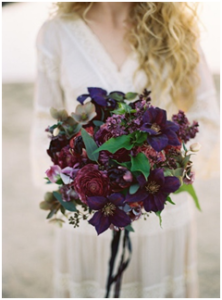 Photo: MICHAEL RADFORD PHOTOGRAPHY
Your Best Asset
Navies and burgundies in wedding bouquets go a long way in accenting a bride's ethereal details, and does an incredible job of complementing a dark-lipped bride.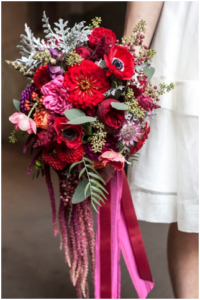 Photo: Kwiaty & Miut
Red, Red Wine
The red rose bouquet is a classic look that may seem a little outdated to your guests. Channel your classic instincts into your bouquet by keeping a wine-colored palette, but exploring a version that integrates all kinds of fresh blooms, not just roses.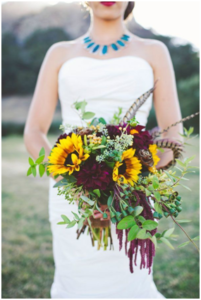 Photo: Ashton Howard Photography
Fall Inspired
Here's a more elegant take on the beloved sunflower bouquet. A mixed composition of these beautiful flowers with jewel hued blooms delivers class along with seasonal sensibility. Pairing the bright yellow with deep burgundy tones doesn't just play off the delicate red streaks in the sunflower's petals, it gives it a depth that will have all the single ladies hoping they will be the lucky one that goes home with it.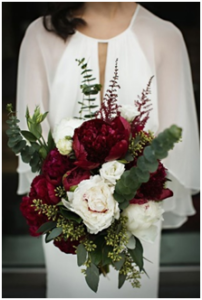 Photo: Jenny Jimenez
Garnet Gorgeous: Jewel toned wedding bouquets can be adapted to many different trends, like sticking to a single type of flower in your wedding arrangement. The big blooms of peonies come in a variety of colors, including a deep garnet hue, perfectly balanced here with a touch of white.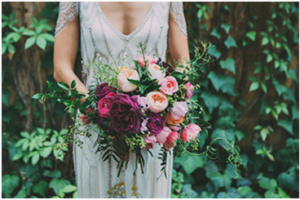 Photo: Nectarine Photography
Hot & Cold: Just because you are toting a warm toned bouquet, doesn't mean you can't dabble with cooler colors. The blue shade of this gorgeous wedding gown is actually emphasized by the contrasting bouquet, making them both look extraordinary.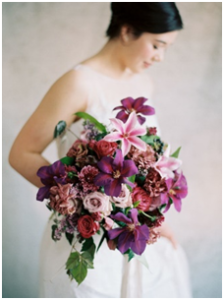 Photo: Rebecca Hollis Photography
Lily Romance: Lilies are a popular choice for wedding bouquets. When they are incorporated into a jewel toned bouquet, they look right at home among the classic roses. Remember that many classic flowers come in all kinds of shades and can be incredible additions to your wedding bouquet.