IDEAS FOR YOUR ENGAGEMENT PARTY
Congratulations, you're having one of the most exciting moments in your life. You're engaged to be married and now it's time to plan the wedding! There are a few different steps to get through before you actually get to your wedding day. The Engagement Party is one special event to plan for while still getting ready for the wedding.  It's a great opportunity for you and your and your family to get together and celebrate your engagement.
First off, the engagement party is the time to introduce everyone from both families and bring them together. They get to join in the excitement and celebrate your engagement with you.  It's basically everyone's first chance to congratulate you as well as get to know everyone else from the other side of the family.  It's likely that everyone is going to be seeing a lot of each other over the course of the next few months and it's important to give everyone the chance to sit down and talk with one another before the big day arrives.
Engagement Party Etiquette
More and more couples these days are deciding to host the party themselves. Otherwise, the parents or even friends can host the event. But it's important to keep in mind everyone's financial situation and to do what makes sense for everybody. Check with both the groom and brides parents to make sure that they aren't already planning the festivities.
The event is generally organized a few months after the proposal, but if you're on a shorter timeline, this can come a few weeks after the announcement. It's important to make sure that your guests have enough notice to attend the celebrations with you.  To keep it stress free and out of the real hectic wedding planning phase try to have party a few months away from the actual wedding day.
Engagement Party Venues
When deciding where to host this event, it's important to consider where everyone in your family lives. If you're across the country, it's probably best not to make everyone fly to your location especially if they're going to have to come down for the wedding in a few months.  If it's possible head down to where everyone else is.  They'll love the consideration and will be thrilled to celebrate with you.  If that's not possible and you want to have fun locally, it's an option to get together your closest friends and family.  Not everyone has to attend the engagement party as there will be plenty of other opportunities for everyone to get together later.
You can choose to have a more formal or low-key party. This generally depends on the couple's decision and their available budget.  Your home is a great place to host it and it will keep things less formal and more casual.  If you wish to make it a bit fancier, you can rent out a club or book reservations for a restaurant.  The venue is up to the host and the couple and should work to support everyone's needs.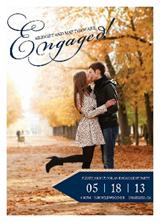 Who To Invite
The guest list can be a bit of a tricky situation. It's generally considered that those who are invited to the engagement party are also welcome to attend the wedding. So make sure to put some serious thought before sending out the invites.  Be sure to check with the host and get an idea of whose coming.  The first on the list is generally close family and friends and then you can begin working on extras.
Food and Beverage
If you're having the event at your home, you don't have to go out of your way and hire a catering service for your event. You can definitely decide to keep things more low-key and just serve some appetizers. Or you could have things buffet style and have all foods lined up on a table all ready to go. Spring and summer are great times to celebrate because then you can bring the party to the backyard. If you have a tighter budget, some good options are a cookout or barbecue. Some staples such as potato chips, burgers, and beer are all great options for your guests. You can even ask close friends and family to bring their own favorite sides.  That way there is plenty of food for everyone and each person has something to choose from.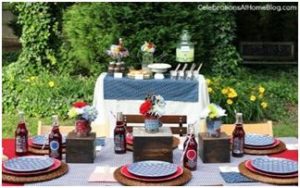 Themes and Decorations
Now that you have the basics down on what exactly the engagement party entails, you can begin planning. You can definitely make things more creative with more of an individual style to it.  Just have an open mind and feel free to explore what you might want when planning for your special day. Perhaps you've been thinking of a theme for your wedding. The engagement party is a great place to start putting ideas into place.  And it doesn't necessarily have to match your wedding either.  It can be something fun such as a masquerade theme or something a bit easier such as a western theme.  If you want your guests to participate, just mention something in the invitation such as wear a mask or cowboy boots.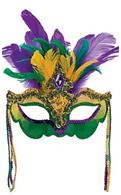 It's really up to you how to want to make your event. A great way to keep the budget small is to DIY your decorations. Pinterest is an excellent resource for all kinds of projects and crafts.  From banners, favors to centerpieces and backdrops, DIY decorations have become the new trend.
Overall, an engagement party can be a fun and unique experience. You can choose to go the classic route to celebrate your future marriage, or get creative with your ideas and have a crazy venue.  Either way, your guests are going to love having the opportunity to congratulate you and your fiancé on your engagement.  It's an important time in any relationship and should be taken seriously when planning.  But this doesn't mean that you can't have some fun with it!