If you're having a summer wedding, you might be thinking about desserts that you could serve your guests other than a traditional wedding cake.
By Effie Orfanides
Jun 14, 2016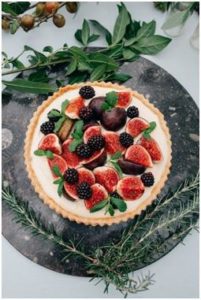 PHOTO: AMY LEWIN / BURNETT'S BOARDS
Fruit tarts are delicious and tend to be very light, especially compared to cake. If you want to do something super fun, have a large fruit tart (the size of a standard pie) for the bride and groom to cut and share with the wedding party. Offer guests individual mini tarts that look the same. This is another great way to bring your wedding colors to life.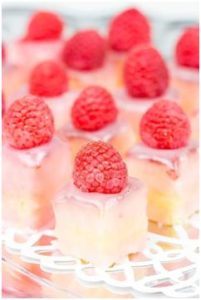 PHOTO: SPICED BLOG
If cake isn't your wedding dessert of choice for whatever reason, but you'd still like to serve something similar, why not go with petit fours? Known for their small size, a petit four will give your guests just a taste of something sweet without overdoing it on the whole "slice of cake" thing. Arrange these little treats on fancy plates or platters — they look so elegant!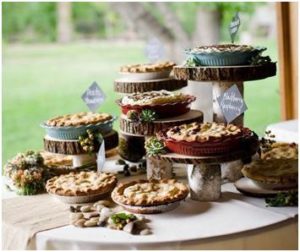 PHOTO: ANGIE WILSON
Some people think that pies are a lot lighter than cakes which makes them a super alternative for your summer wedding. Since this is a relatively inexpensive option, you might choose to have a "pie bar" and offer three or four different varieties. Don't forget the ice cream!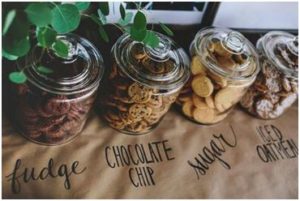 PHOTO: SHOTS BY CHEYENNE
Offering cookies may seem offbeat, but done the right way, it can be pretty perfect. Make sure you offer a good variety and that you present your cookies in a nice way (either in baskets or on decorated platters). For some added fun, put signs out that let your guests know the groom's favorite and the bride's favorite.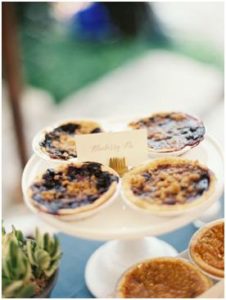 PHOTO: HEATHER HAWKINS / MYWEDDING
Oh, aren't they the cutest? These wedding desserts not only look great but are tasty too. Choose a couple of different varieties or offer all the same. Either way, these mini pies are sure to satisfy your guests. You can serve them plated (have them brought to your guests at their seats) or have them sat up at a dessert table.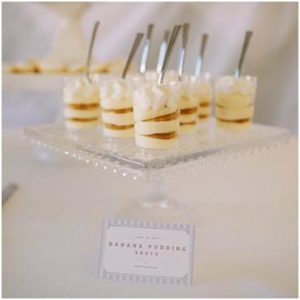 PHOTO: INSTAGRAM
A dessert shot is a versatile cake alternative that offers a variety of options. Not only do they look super cool (it's essentially a pudding cake in a shot glass), but they taste delicious.