BY JESSICA BISHOP
Updated 08/28/17
Incorporate Fall Colors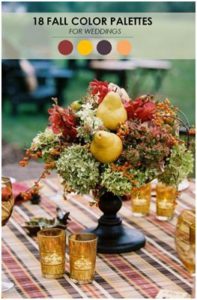 Fall Wedding Color Palettes. The Perfect Palette
If you're looking for amazing fall wedding ideas and inspiration, you're in the right place! Trending fall wedding décor is all about paying homage to the season without being too literal. You don't incorporate pine cones and leaves in your wedding décor to make it feel like a fall festive occasion! You can absolutely feel free to incorporate fall colors without literally bringing in elements of the outdoors.
Go with a Lighter Look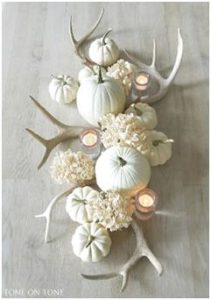 White pumpkins, candles, and flowers make a chic centerpiece. Tone on Tone Antiques
You can still have a chic all-white wedding while also incorporating fall accents! Consider pairing white candles with white pumpkins, lace, white flowers or even baby's breath for a stunning and classy look.
Hints of Metallics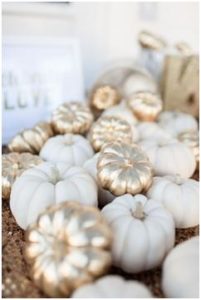 White and gold pumpkins. Megan Clouse Photography
Incorporate hints of metallics in your wedding decor, such as by painting some mini pumpkins a champagne gold color. Mix them in with larger white pumpkins for a subtle and classy decor arrangement that would be perfect as a centerpiece, along your aisle, or even as decoration near the cake table.
Floating Candles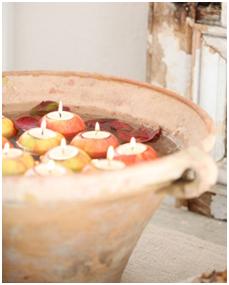 Floating candles in apples are a unique detail for a fall wedding. Polka Dot Bride
Floating candles are a popular choice for wedding decor, but for fall, you can get creative by incorporating natural elements like fruits and veggies! Consider creating your own floating candles by hollowing out pumpkins, apples, or other veggies to use as a vessel for a unique take on this wedding staple.
Jewel-Toned Hues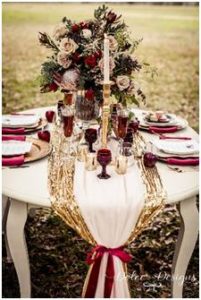 Rich jewel-toned hues mixed with metallics make for a lovely fall centerpiece. Dolce Designs
If you're not into using a distinctly fall color scheme of oranges, reds, browns, and golds, you can always opt for jewel tones. Incorporating gem-inspired hues will give off the vibe of the changing seasons without using what are typically considered to be fall colors. Deep blues, purples, and reds mixed with metallic accents will bring a sense of warmth to your table.
Use Fall Elements Sparingly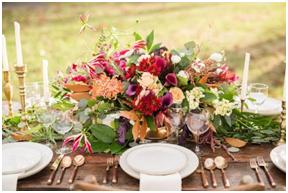 Fall Wedding Centerpiece Inspiration. Kari Me Photography
You can use fall elements sparingly and still invoke the feelings of fall, by choosing beautiful colors, flowers with various textures, wooden elements, metallics, etc. Choosing the right mixture of details can pull together a look that feels cohesively and beautifully fall, without being overly obvious.
Repurpose your Pumpkins
Use your pumpkin as a vase for a fall centerpiece! Michael Partenio
Consider using your pumpkins in a unique way, Instead of just displaying them as-is, hollow them out and use them as vases for your fall wedding centerpieces! You could incorporate any sort of flower or foliage to mix up the look, from chic white hydrangeas to wheat, dusty lavender sprigs to baby's breath, to dark and moody maroon roses!
Use Leaves as Place Cards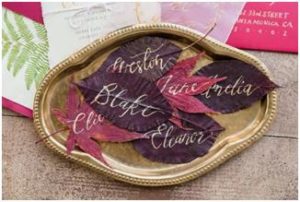 Leaf place cards. KARI ME PHOTOGRAPHY
These leaf place cards are a unique and colorful detail to add to any table. Extra points if you find colors that are not typical orange, yellow, or green! We love these jewel-toned leaves with calligraphy for adding a pop of color to your place settings in a chic and natural way.
Repurpose Fall Foliage in Unique Ways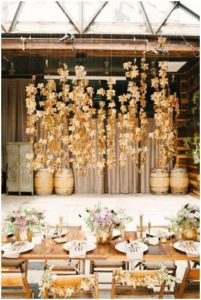 This metallic leaf chandelier is a gorgeous and budget-friendly idea to infuse a wedding with fall details. Brklyn View Photography
Consider finding unique ways to incorporate fall foliage into your wedding decor such as repurposing. We love this metallic leaf chandelier created by Michelle Edgemont. Leaves are free! Gather some leaves, spray paint them gold, string them together, and hang them from the ceiling to create a gorgeous metallic leaf chandelier! Such a gorgeous idea and very budget-friendly, too!