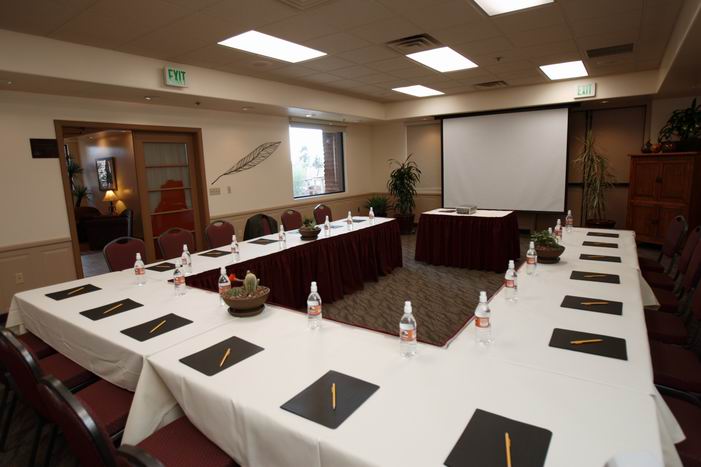 The Agave of Sedona provides a wedding, meeting or event retreat unlike any other.
From the unconventional to the more traditional affairs, the Agave of Sedona can accommodate a range of styles and needs. Charity galas, fund raisers, holiday parties, Mitzvahs, corporate functions, association dinners and employee appreciation dinners are just a few of the events we embrace.
Located in the heart of Sedona, the Agave of Sedona is in a distinctive location just minutes from uptown Sedona and 1.3 miles from the Sedona airport. Our Blue Agave Room accommodates 55 people for that private meeting, company function, or family gathering. For larger groups, the Montage Ballroom may be combined with the Blue Agave Room as it offers seating for 180 guests. The larger room has floor-to-ceiling windows that bring the beauty of the Red Rocks right into the room. The Montage Ballroom also connects to our Celebration Terrace with breathtaking views of the Red Rocks-Steamboat Rock, Wilson Mountain, Merry-go-Round Rock, Schnebly Hill, and much more.
For that personal touch at your event, you may choose from our list of talented caterers. We have selected superb professional caterers with years of experience in providing delectable cuisine. To access our preferred caterers, click on the link provided
Features and Services:
6,000 square feet of indoor/outdoor event space
Stunning panoramic Red Rock views
Indoor event for up to 180 guests
Smaller meeting room for up to 55 guests
Terrace events for up to 120 guests
Foyer to welcome your guests
Complimentary Wi-Fi
70 inch HDTV available
7 foot electronic projection screen in the Blue Agave Room
Bluetooth conferencing device
Custom spot lighting to highlight each table
Black-out window treatments
Book your meeting or event with us!