Cotton Wedding Bouquets & Centerpieces

Want to add unique texture to your wedding bouquet and centerpieces? Try raw cotton!
By Sarah Pierce
May 22, 2015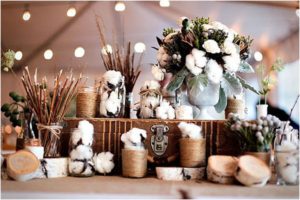 Southern brides have been using cotton bolls in their wedding flowers for years, and (much like Mason jars and seersucker suits) the rest of us are finally catching on!  Although you could use cotton for many different themes and color schemes, it lends itself particularly well to rustic affairs. Above, this welcome table is decorated with woodcuts, twine wrapped jars filled with raw cotton, and vintage décor pieces. It creates a soft, neutral tablescape that everyone will be tempted to reach out and touch.
Cotton can work for any season. Use it to add fluffy white touches to an icy, winter centerpiece filled with ivory anemones, brunia berries, and dusty miller (above, left).  Or take a summery pink arrangement and add raw cotton for a cotton candy effect.  Go simple with a tiny bunch of cotton bolls in an antique bottle
On the other end of the spectrum, tall cotton branches in a large vase (below) can create a massive arrangement, perfect for venue entrances and aisle décor.