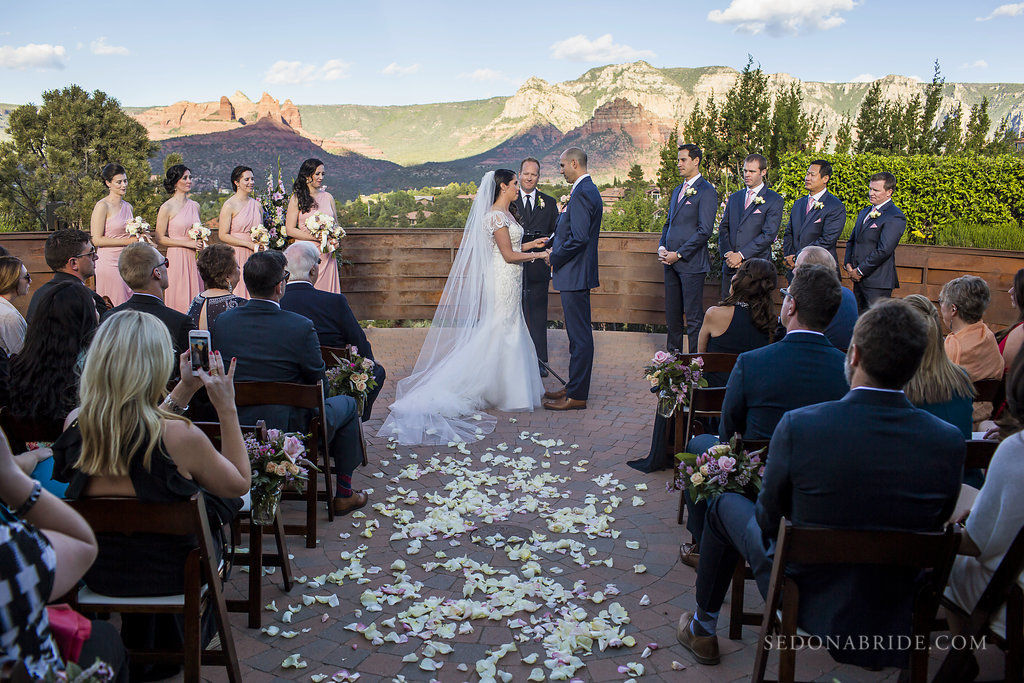 As longtime residents of Sedona, the owners wanted to share their vision of a building designed with the same organic materials that grace Sedona's Red Rock formations. Years of planning went into the design of this magnificent hilltop venue. It became paramount that their efforts reflected something that looked like it had been there for decades, blending with the natural formations of Sedona's Red Rocks. With that in mind the venue was constructed out of imported sun baked adobe bricks. In 2015, an outdoor circular Ceremony Terrace incorporating the four elements; earth, fire, air and water was built to enhance our guest's experience. A vestibule shaped water feature, sun baked bricks, and rusted metal fire feature merge with the open-air terrace bringing the elements together. Large windows strategically placed in the Montage ballroom heighten your Red Rock experience. Awe inspiring Red Rock formations will surround you at every turn.
In order to be good stewards to our precious environment and to harness the numerous days of Sedona sunshine, solar power was added in 2016. No effort was spared in the design process affording each and every event that special touch. All that is left is your concept put in to motion, to provide that one in a million experience.
Our seasoned staff provides exceptional customer service. They are experienced, organized, talented, caring and know how to make sure you have a good time on your special day. The reviews say it all, "incredible staff", "our wedding day went off without a hitch", and "continue working your magic and making other brides and grooms wedding dreams come true".
We look forward to welcoming you to the Agave of Sedona Wedding and Event Center.
ABOUT SEDONA
For thousands of years people have been drawn to Sedona by a majestic allure that goes beyond the visual and reaches deep into the soul. The stunning red-rocks and Oak Creek accent the variety of outdoor activities available are: hiking, fishing, photography, outdoor exploration, mountain bike riding, Slide Rock, historic locations, Indian ruins, bike riding, four wheeling jeep tours, wine tasting, scenic helicopter tours, horse back riding, hot air ballooning and more. Shopping in our numerous boutique shops or dining at any of our superior selection of restaurants make Sedona a must-visit destination, and the perfect location for your meeting.
Sedona's red rocks draw visitors from around the world. Its reputation for majestic desert landscapes ending in exotic rock bluffs and monuments, coupled with the serene waters of the Oak Creek filling the valley with lush green plants, make Sedona a requisite stop for every southwestern adventure. Sedona has been designated as a Dark Sky City, making the sights of the desert just as beautiful under starlight as they are in the daylight.
Sedona offers activities and attractions for everyone to enjoy and the Agave of Sedona's convenient central location in the heart of Sedona makes it possible to take advantage of all of them. Sedona is also a gateway to the Grand Canyon, playing host to many of the 4 million people that visit the Grand Canyon every year. Just 2 hours away it makes a great day trip.
THINGS TO DO IN SEDONA
Golf at one of Sedona's 18-hole course
Visit Out of Africa Wildlife Park
Tour the area with a jeep tour
Visit nearby Ghost Town of Jerome
Explore the many Sedona art galleries & one-of-a-kind shops
Explore Native American art and jewelry
Treat yourself to one of Sedona's many spas
Visit the Grand Canyon, just two hours away
Enjoy Sedona's own micro-brewery
Enjoy a walking tour of historical uptown
Tour local wineries and vineyards
Visit Chapel of the Holy Cross (Voted one of the man-made natural wonders)
Hike Cathedral Rock and Red Rock Crossing
Watch a beautiful sunrise or sunset from the Airport Overlook
Soar above the red rocks in a bi-plane, helicopter or hot air balloon
Visit a natural rock slide in Oak Creek Canyon
Rent a bike and enjoy one of our scenic bike trails
Enjoy a day of horseback riding
Kayak the Verde River