5 Reasons Rain Shouldn't Dampen Your Wedding Day
If the forecast looks grey on your big day, don't fret – we've come up with five reasons
you should embrace inclement weather.
By Brittany Wheeler
Sep 15, 2016
1. It will add to your wedding album
A rainy wedding day is usually a bride's biggest fear, but it actually makes for unexpectedly beautiful photographs. Think cute shots huddled under umbrellas with your bridal party, or kissing your husband.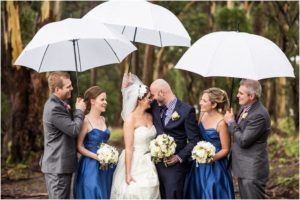 PHOTO: GM PHOTOGRAPHICS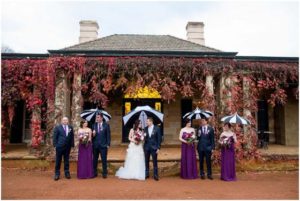 PHOTO: SOLAS WEDDING & PORTRAIT PHOTOGRAPHY
It makes an unforgettable story
Rain on your day certainly makes for an excellent story! On a day that goes by too fast, stormy weather will be difficult to forget.
Its super romantic, just like the movies
Consider the iconic rain scene between Noah and Allie in The Notebook. A rainy day creates a romantic setting and dreamy atmosphere, and is the perfect opportunity to cuddle closer and take a few risks with your wedding photographer.
A photo posted by Beth Chapman (@bethchapmanstyling) on Dec 8, 2015 at 7:06pm PST
It can be considered good luck
In some cultures rain on your wedding day is considered good luck. For example, in the Hindu culture it's said to predict a strong marriage as a wet knot is harder to untie (referring to marriage as 'tying the knot')
You'll have long-lasting and happy blooms
It's no secret that flowers are sensitive and suffer in warmer conditions, but this will be one less worry if you have a wet weather wedding. Your blooms will be thriving!