18 Little Things that'll Make Your Wedding More Meaningful
BY: Weddingflowershub.com
Every wedding is special and personal in its own way. And it is obvious that your wedding day is already going to be one of the most special and meaningful days of your lives. You are marrying your best friend, after all! But we have a few ideas that might just take your wedding one step further. When your big day arrives, you want it to be special so that you will remember it with fondness for the rest of your life. There are tons of traditions and other things that are usually present at a wedding, but that doesn't mean you can't add your own ideas to your day. Check out these touching choices and you're wedding will be so meaningful that you'll never want it to end.
HANDMADE FAVORS
Instead of those tiny containers of bubbles, consider a handmade wedding favor. For my wedding, I colored homemade seed packets that we handed out filled with the blooms that were at the wedding.
SOMETHING FROM YOUR MOM
Maybe you don't want to wear your mom's gown, but you can still carry a piece of her with you. Maybe you could wear her veil or the earrings she got married in.
CANDID PHOTOS
Instead of only getting formal, posed shots at your wedding, ask your photographer to take some candid's too. Or, hand out disposable cameras and have your guests take pictures for you.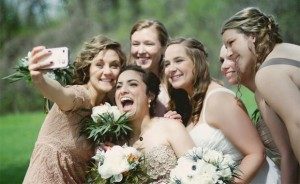 SHOE NOTES
What's a shoe note? It's when the bride and groom write each other a tiny love note on the bottom of their wedding shoes.
MEMORIAL RIBBON ON YOUR BOUQUET
Will your wedding be missing a special person? Wind a ribbon with that person's name through your bouquet so they still feel like part of your big day.
BRIGHT ACCESSORIES ARE FUN
Have your bridesmaids wear hot pink heels or bright yellow statement necklaces so that you have something big and bright for your pictures.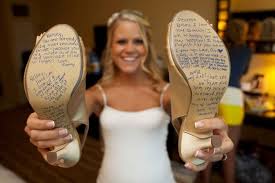 BRIDE AND GROOM TOASTS
Add your own wedding toasts to make your big day that much more special and memorable.
YOUR LOVE STORY
Share your love story with your guests by telling everyone how it happened or by setting up a photo slide show.
ASK FOR YOUR GUESTS' ADVICE
Place some cards on the tables and ask your guests to pen some marriage advice. You'll have so much fun reading them all after the big day is over.
WRITE YOUR OWN VOWS
The traditional church vows are beautiful, but if they don't fit your style, you and your groom can write your vows to each other.
SERVE YOUR OWN BEER
No, I'm not suggesting tending bar at your own wedding. Instead, many couples are choosing a special brew for their wedding. Brew it yourself or order your own personal flavor from a local brewery.
TRY A REVERSE UNITY CANDLE
Instead of combining your two flames in one unity candle, spread your flames to candles that each of your guests are holding. This brings you all together and creates a unique memory you can share forever.
13. MONOGRAM YOUR VEIL
Get started with your new initials right away by having your new monogram embroidered on your wedding veil.
CREATE A HASHTAG FOR YOUR WEDDING
Will all your guests be posing your wedding photos on social media? Create a wedding hashtag so your guests can share the big day with you.
CREATE A CUSTOM PLAYLIST
When you send out your RSVP cards, have your guests request a song. Then use those ideas to create the perfect wedding playlist for your wedding.
16. DO PERSONALIZED SEATING CARDS
Instead of the usual cards with your guests' names written in calligraphy, mark their seats with candid photos of each of them. Fun!
PERSONALIZED WEDDING PROGRAM
Instead of just writing it all down, add photos and graphics that make your wedding program something everyone will want to hang on to forever.
Introduce the bridal party yourselves
There are probably a few reasons that you asked your bridesmaids and groomsmen to stand up with you at your wedding. Each of them holds a special place in your lives. Rather than having your MC tell your guests what they mean to you, try telling them yourselves. Sharing a fond memory or how you became friends is even more special if it comes straight from you.