Farm-to-table weddings are becoming a big hit for the modern couple and this organic, nature-inspired look is the epitome of rustic.
By Leila Lewis, Mar 9, 2017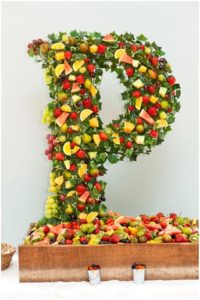 PHOTO: ADAM + ALLI PHOTOGRAPHY
Why not create a fruit stand in the shape of the first letter of your new last name? This monogrammed fruit salad is equal parts delicious and innovative when it comes to décor.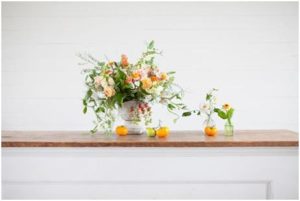 PHOTO: COUNTRY BOUQUETS FLORAL, LAURA NICHOLS PHOTOGRAPHY
Keep things bright and fresh with your floral décor. Citrus-inspired colors and pastel floral go perfect against lush greenery.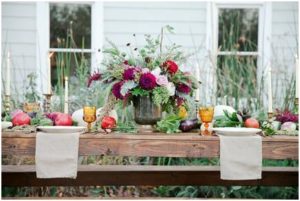 PHOTO: ALL IN THE DETAIL DESIGN, TIFFANY AMBER PHOTOGRAPHY, ENCHANTED FINE FLORALS, BEAUTY AND THE BEACH, FOLKLORE RENTALS, JAYS CATERING
A rustic farm table wouldn't be complete without a myriad of vibrant fruits and vegetables as table décor. Add a lush and colorful floral centerpiece and you have yourself a farm-to-table dream.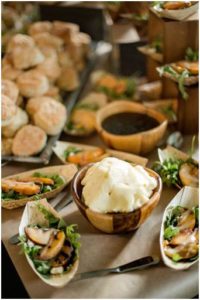 PHOTO: ELIZABETH BIRDSONG PHOTOGRAPHY
It's all about the food when it comes to farm-to-table weddings. The fresher the ingredients, the better the dishes!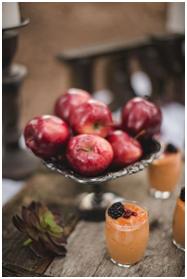 PHOTO: ENV PHOTOGRAPHY
Who needs fancy décor when you can just use gorgeous fruit instead? The deep red color of apples add some ultra-romantic vibes to a rustic wedding.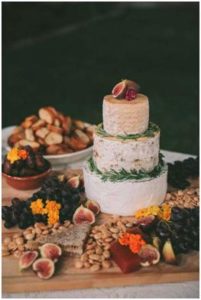 PHOTO: GATHER EVENTS, DENNIS KWAN
Forget a sweet cake and bring in CHEESE cake. This is a step above any traditional charcuterie board and what's not to love about this simplistic, yet stunning layout.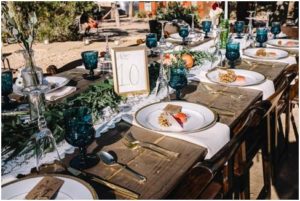 PHOTO: LEILANI WEDDINGS, THOMAS PELLICER PHOTOGRAPHY, RIMROCK RANCH, THE BLOOMIN GYPSY, SUNDROP VINTAGE, SIGNATURE PARTY RENTALS, CHEF KATHERINE KING
Just because you're going for a rustic look, doesn't mean you have to skimp out on the glam factor. Colored tabletop rentals and stylish runners will instantly step up your farm table.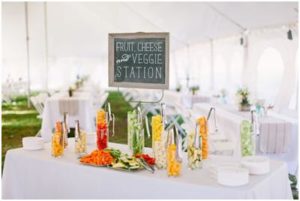 PHOTO: M THREE STUDIO PHOTOGRAPHY
Forgo the traditional tray pass at cocktail hour. A simple fruit, cheese and veggie station is so simple and and adds a natural pop of color to your décor.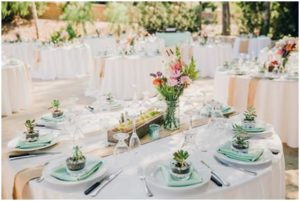 PHOTO: MICHELLE FLORES PHOTOGRAPHY
Keep the theme going even after the wedding by gifting a succulent to your guests? Not only does it match your theme but it's a favor your guests will love.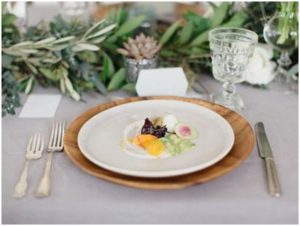 PHOTO: MODERN ART CATERING, FOR THE LOVE OF IT
Make your guests mouth water with elegant, farm-fresh dishes. Spending a bit more money on a caterer who uses organic ingredients will go a long way.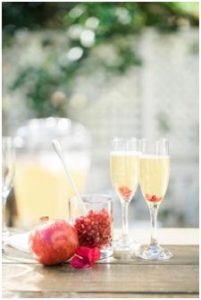 PHOTO: NO WORRIES EVENT PLANNING, BRANDON AQUINO, AMY'S CULINARY ADVENTURES
Spruce up the traditional champagne toast with some fresh fruit! Pomegranate seeds add a beautiful pop of color and a fun twist.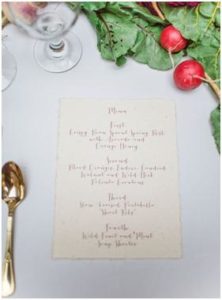 PHOTO: OAK & HONEY EVENTS,MANN & WIFE VISUAL STORYTELLERS, FAIR RARITY FLOWERS, MILLER'S PARTY RENTALS, BACI DESIGNER
Keep the rustic theme going with a simple but rustic menu. Beautiful calligraphy adds a tough of elegance, too.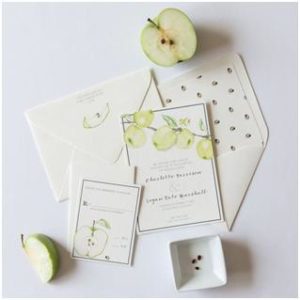 PHOTO: SARA FITZ, BREA MCDONALD PHOTOGRAPHY
Fruit doesn't only have to be reserved for the reception. Showcase the gorgeous farm-to-table theme before the wedding even starts with your stationery suite!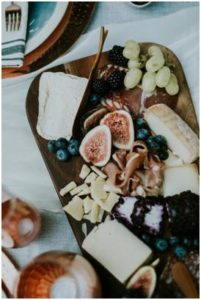 PHOTO: STUDIO 29 PHOTOGRAPHY, MIDWESTERN BRIDE
Farm-fresh charcuterie boards will win some major points with your guests. Whether you have several placed out on tables or just out during cocktail hour, consider adding this tasty detail.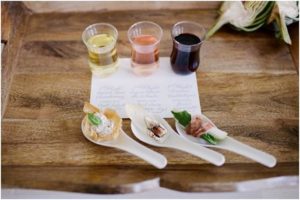 PHOTO: THEO MILO PHOTOGRAPHY, MILNERS CAFÉ AND CATERING, KICKSTAND EVENTS
For more intimate weddings, a wine and food tasting is the perfect way to celebrate your nuptials. These gorgeous bites are as fresh as they get!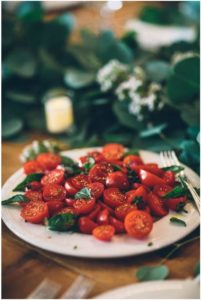 PHOTO: VITAE WEDDINGS, MANN FAMILY FARM, FERRARI CUSTOM CATERING, AMPERSAND
Compliment your main dishes with fresh vegetables. This is a tasty yet budget-friendly way to impress your guests.